MikeL's Guide to WA Wineries
Alhambra Wine Co.
Loganberry label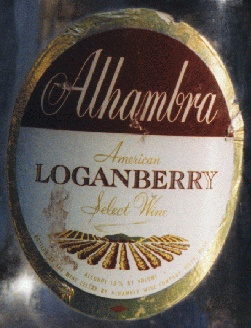 [Photo credit: Mike Lempriere; Label source: Mike Lempriere]

In Winter 1998 while browsing in a Seattle antique store (the one down below Pike Place Market) I found this old one gallon Alhambra jar on a rack. I bought it for $5.
Sorry for the poor reproduction quality -- I don't want to tear the label attempting to remove it from the jug.

Text:


Alhambra
American
LOGANBERRY
Select Wine
ALCOHOL 13% BY VOLUME
BOTTLED AT THE WINE CELLAR BY ALHAMBRA WINE COMPANY, SELAH, WASH.
---

Welcome to MikeL's WA Winery Guide (http://vintners.net/wawine/)

up to MikeL's WA Winery Guide -- Main Index
---
Copyright © 1995-2016
Mike Lempriere