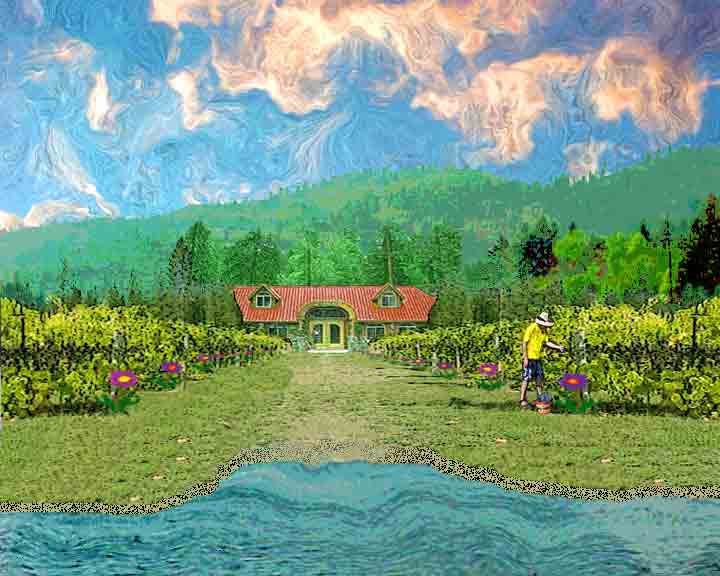 China Bend Winery
Organic & Unsulfited Wines
Dear Friends,
this year, as we open the Tasting Room and Gift Shop for the 2003 Season, we announce that our 2000 Marechal Foch Reserve has been awarded a third International Award, this time at the 2003 Dallas International Competition in a field of over 3,000 wines.
We are proud that our Homegrown and Handcrafted Organic & Unsulfited Wines have consistently won awards (19 to date) in every event we have entered in open competition with both Conventional and Organic wines!
If you haven't tried our delicious Marechal Foch yet, we encourage you to check out our website www.chinabend.com , give us a call (800)700-6123, or better yet........
Drive In! Boat In!! Fly In!!!
Explore our Gardens and Vineyards on the Banks of Lake Roosevelt
Sample our Wines and Gourmet Foods
Tasting Room & Gift Shop
Open Daily Noon~5:00
Bed & Breakfast at China Bend
Now you can make China Bend your Destination!
Experience the rare peace and natural beauty of the China Bend Estate from the comfort of your room or private deck. Enjoy the optional "Wine, Dine, & Recline" package which includes private dinning featuring China Bend Organic Cuisine.
3751 Vineyard Way ~ Kettle Falls, WA 99141
~ On the Northport-Flat Creek Road along Lake Roosevelt ~