MikeL's Guide to WA Wineries
Columbia Winery
1979 Millenium Cabernet Sauvignon label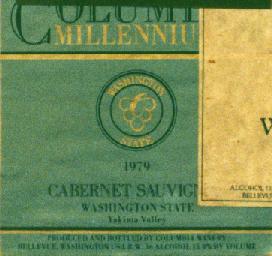 News flash! 30-Dec-1999
I have been asked several times in the last few weeks about this wine. Enough times, that I had to check with the winery -- it is still available in the winery's tasting room, they have about one case (12 bottles) left. The price is $99/bottle.

Although I don't usually post opinions, I will in this case. I have tasted this wine each year for the last several at the "Columbia Taste Of Red" event. In my opinion, it has just past it's peak. Don't get me wrong, it's a wonderful wine -- just be sure to drink it now, for your Millenium party -- I will be drinking mine. (I'll have a better label after that too!)

[Photo credit: Mike Lempriere; label source: The Grape Choice, Kirkland, WA]
My apologies for the poor quality, but the label is shellaced to a cabinet, and is partially obscured by a Columbia Woodburne label. I felt it was too rare to pass up, regardless of the quality.
---

Welcome to MikeL's WA Winery Guide (http://vintners.net/wawine/)

up to MikeL's WA Winery Guide -- Main Index
---
Copyright © 1995-2016
Mike Lempriere