MikeL's Guide to WA Wineries
Greenbank Cellars
Wurlitzer front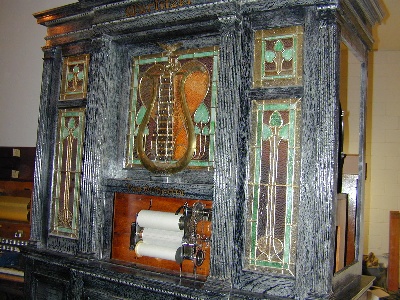 [Photo credit: Mike Lempriere, Aug-2001]

Frank is also an avid collector of turn of the century (20th that is) technologies. This is a fantastic Wurlitzer "Player" machine (see Wurlitzer insides for it's insides.)

According to Frank there's only one other of these instruments surviving. There's quite a few instruments packed into it, all controlled by the paper scroll visible on the front panel. The winery features a room with several of these carefully refurbished instruments. It's amazing how you're taken back a century just hearing one play!
---

Welcome to MikeL's WA Winery Guide (http://vintners.net/wawine/)

up to MikeL's WA Winery Guide -- Main Index
---
Copyright © 1995-2016
Mike Lempriere