MikeL's Guide to WA Wineries
Hedges Cellars
Mural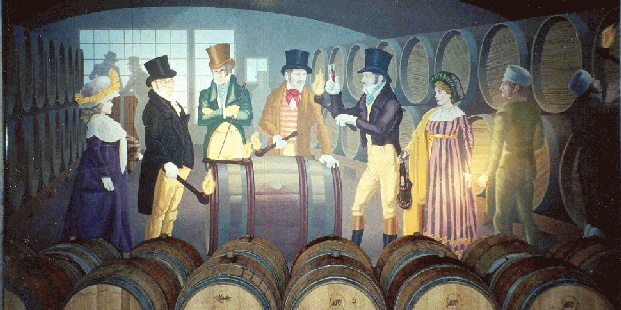 Fabulous mural in the Issaquah facilitys spacious event area. The tasting room is and the sofa are to the photographers back.
In WA state it is not legal to have a tasting room only. It's either a wine store, or it is a winery tasting room, with wine being made on the premises. Although wine is not made at the Issaquah facility, those are real oak barrels, with wine aging in them in order to be compliant with the law.
There is a story to the mural, I'm sorry I don't have the details. It is recreation of an old painting, with the faces of some members of the Hedges staff. I believe that's Anne-Marie Hedges towards the right (purple stripes) next to Tom Hedges (top hat, holding glass up). Becky(?) on the left (dark blue gown).
[Photo credit: Mike Lempriere, Jan-1999 neg #0642_18]
---

Welcome to MikeL's WA Winery Guide (http://vintners.net/wawine/)

up to MikeL's WA Winery Guide -- Main Index
---
Copyright © 1995-2016
Mike Lempriere