MikeL's Guide to WA Wineries
Hinzerling Vineyards
1980 Merlot label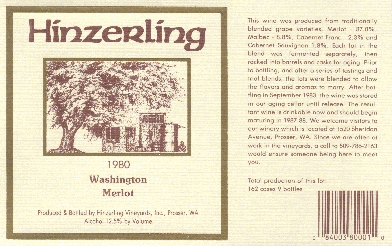 Front panel text:

Hinzerling
1980
Washington
Merlot
Produced & Bottled by Hinzerling Vineyards, Inc., Prosser WA
Alcohol 12.5% by Volume
Rear panel text:
This wine was produced from traditionally blended grape varieties, Merlot - 87.8%, Malbec - 8.8%, Cabernet Franc - 2.3% and Cabernet Sauvignon 1.8%. Each lot in the blend was fermented seperately, then racked into barrels and casks for aging. Prioir to bottling, and after a series of tasting and trial blends, the lots were blended to allow the flavors and aroms to marry. After bottling in September 1983, the wine was stored in our aging cellar until release. The resultant wine is drinkable now and should begin maturing in 1987-88. We welcom visitors to our winery which is located at 1520 Sheridan Avenue, Prosser, WA. Since we are often at work in the vineyards, a call to 509-786-2163 would ensure someone being there to meet you.
Total production this lot:
162 cases 9 bottles
[Label collection: Beth Schoenberg]
---

Welcome to MikeL's WA Winery Guide (http://vintners.net/wawine/)

up to MikeL's WA Winery Guide -- Main Index
---
Copyright © 1995-2016
Mike Lempriere