MikeL's Guide to WA Wineries
WA Winetasters Basic Geography Lesson
---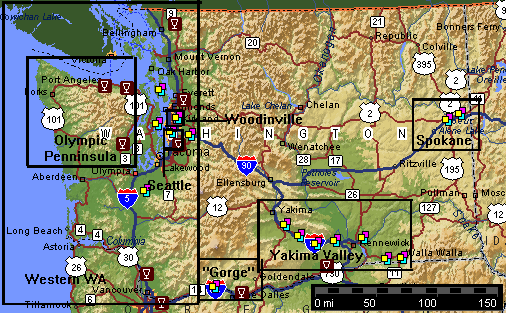 WA state is split vertically in two by the Cascade Mountain range; about one third of the land is to the west.
Please forgive the crude map, it's the best I can do with the freeware tools I have.
On this map, Seattle is hidden by the "S" of "WASHINGTON".
Both the red glass icon

and the colored squares icon

indicate wineries.

Western WA:
There are between two and three dozen wineries in Western WA, spanning the entire height of the state.

The Olympic Pennisula is a wonderful scenic place featuring the historic towns of Port Angeles and Port Townsend, which are packed with Bed & Breakfasts. However from Seattle it's several hours of driving time plus a ferry ride or two to get there. This can be wonderful fun, it's just that you have to plan to spend the weekend.

The scattered Puget Sound islands (especially the San Juans) are also extremely scenic and romantic, but due to the ferry trips in between them, it's only possible to visit one or two in a day. This is a vacation trip with wineries, not a a winery trip. The one near the Canadian border is all alone, though can be included in a trip to the San Juan islands or Olympic Peninnisula wineries trips. It's about half an hour from Bellingham, which is about an hour and a half from Seattle (in light traffic).

Most of the wineries in Southwestern WA are near Olympia and are appt. only. They're a bit far apart (half hour between any) and about an hour and a half from Seattle (in light traffic). However these can be visited as part of a trip to the Columbia River Gorge wineries, or Western Oregon wineries.

Most of the Seattle area wineries are appt. only. Although they're close together, in weekday traffic it can take a good half hour to get from one to another. If you're spending a few days in town on business, you may be able to visit several of them (some are even open evenings), but you really can't plan a trip around them.

By far your best bet for a near Seattle is Woodinville. There is a cluster of close together wineries, all with good quality products. Some are appt. only, so if you're serious, contact them ahead of time.
---
Eastern WA:
Eastern WA has four major winery areas, the Yakima Valley, Walla Walla, Spokane, and the Columbia River Gorge.

Most of the wineries In the state are concentrated in the Yakima Valley. These can be looked at as four towns, each with about a dozen wineries, (going west to east):
Zillah
Prosser
Benton City
The first, Zillah, is about a three and a half hour drive from Seattle across the Cascade Mountains at Snoqualmie Pass. During the Winter months crossing the Pass may be slow or even closed. From Zillah, each town is anywhere from a few minutes to a half hours drive from the previous town, usually with a winery or two on the way. Your best bet for a weekend in Eastern WA would be to pick any two of these four towns.

Walla Walla is about an hours drive past the Yakima Valley. There's a handful of wineries here, including some of the most highly lauded, however, several of them are only open to the public for special event weekends once or twice a year.

Spokane has a handful of nice wineries. It's about a 5 hour drive from Seattle, and is not really on the way past many others, so this is a destination trip.

Last but not least, the Columbia River Gorge (internationally renowned for great surf-sailing) has a handful of fine wineries. Additional sightseeing are the Stonehenge replica and the Maryhill museum. This can be done from Seattle past the Southwest WA wineries (about 2 hours driving), or from Zillah (about one hour driving).
---

Welcome to MikeL's WA Winery Guide (http://vintners.net/wawine/)

up to MikeL's WA Winery Guide -- Main Index
---
Copyright © 1995-2016
Mike Lempriere