MikeL's Guide to WA Wineries
WWC Photo contest - Apr-2000
---
-- Contest is concluded -- Thanks to all who participated! (results near end of page)
---

This year's Washington Wine Commission "Taste Washington" event included a photo session... All the represented wineries had a person in the group photo.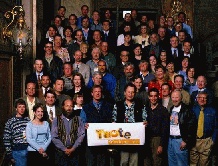 There's a whole pile of people in the photo -- your job is to name as many as you can.

The three entries with the highest number of correct names will receive a prize, courtesy of Vintners.Net.
1st place: Dinner for four (the winner and companion, plus MikeL and his wife Beth) at the Golden Goat Italian restaurant in Woodinville, plus a bottle of wine from Perennial Vintners
2nd place: a bottle of wine worth up to $35 from any WA winery whose winemaker is in the photo, plus a bottle of wine from Perennial Vintners
3rd place: a bottle of wine from Perennial Vintners

Click on the photo for a larger image, and directions for entering...


---
Results (21-Sep-2000):
There were 8 entries made.
2 entrants were disqualified as "industry insiders".
The 1st place winner had the same number correct as I (MikeL) did initially: 16.
It was a little trickey scoring these, as there's still quite a few people in that photo that I don't know, and who were not identified by my industry friends.
The 3 winners have been notified -- thanks everyone -- it was fun!

Updated 18-Nov-2000: The First place dinner at the Golden Goat in Woodinville -- Thanks to Jeff Boswell:

| | |
| --- | --- |
| | |
| Beth and Mike | Kimberly and Perry |
---
Rules/Disclaimer:
There will be only three winners selected. In event of matched scores, the prizes will be allocated by coin toss.
The winners will be notified by email. Arrangements for pickup or delivery of the prizes will be made with winner at that time.
Only one entry per person allowed, only one guess in that entry.
Contest closes 31-Jul-2000 -- entries must be submitted by email, before this time.
Industry insiders are welcome to submit, but we ask that they're identified as such and refrain from claiming prizes -- in other words, please be nice -- this is all intended in fun!
I hope to come up with additional contests in the future -- don't hesitate to mail me any ideas you may have for a contest: send email to mikel

Thanks to all for participating!

---

Welcome to MikeL's WA Winery Guide (http://vintners.net/wawine/)

up to MikeL's WA Winery Guide -- Main Index
---
Copyright © 1995-2016
Mike Lempriere