MikeL's Guide to WA Wineries
Woodward Canyon Winery
1984 Cabernet Sauvignon label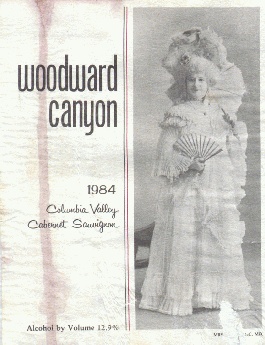 [Label source: Beth Schoenberg]
My apologies for the poor condition -- obviously it was steamed off of a spent bottle -- but was historically too interesting to pass up.
Label side panel text:
This fourth bottling of 100% Cabernet Sauvignon is dedicated to Mrs. Annie McC. Mix, an early Walla Walla Valley agriculturist, businesswoman and lady of high society.
Annie McC. Mix was born, Anna Dwight, in New Orleans in 1831 and arrived in Walla Walla with her husband and three children in 1863. Subsequent to the death of her lawyer husband, James D. Mix in 1881, Mrs. Mix took over operation of the family business interests, including agriculture, stockraising and commercial real estate such as the Palace Hotel. She was widely known for her gracious hospitality and judicious business ability. Annie McC. Mix died January 24, 1909.
In early January, 1987, following aging in new Center of France barrels, this 1984 Cabernet Sauvignon was bottled and laid down in our cellar for additional aging and development. This wine, as with past Woodward Canyon Cabernets, will benefit greatly from additional cellaring and should carry easily into the 1990's. In time, even with proper storage, sediment will appear and decanting may be desirable.
This elegant, well-structured red wine would be a most generous complement to fine aged cheeses, game, lamb and, indeed, all red meats. We welcome visitors seven days a week.
Analysis at bottling:
ph 3.6
Total acid .73 grams/100ml.
Alcohol 12.9% by Volume
Contains sulphites

[signature] Richard L Small
winemaker
Made and bottled by Woodward Canyon Winery BW-WA-81, Lowden, WA 99360

---

Welcome to MikeL's WA Winery Guide (http://vintners.net/wawine/)

up to MikeL's WA Winery Guide -- Main Index
---
Copyright © 1995-2016
Mike Lempriere