MikeL's Guide to WA Wineries
English Estate
Vineyard with rainbow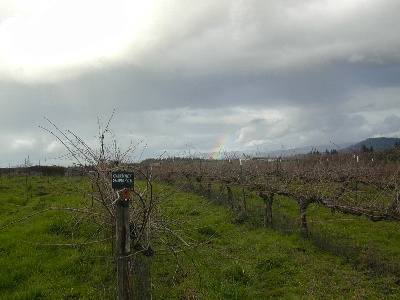 [Photo credit: Mike Lempriere, 22-Feb-2003]
This is looking north over the vineyard, I happened to catch a lovely rainbow!

Believe it or not, the end of these vine rows ends in a fence, and a 75 foot drop down to a gravel mine. This allows for an excellent view of the soil composition of the vineyard. As you can see in the photo, pruning had not started yet for the season in this part of the vineyard. These Cabernet Sauvignon vines were planted in 1983 with cuttings from Salishan Vineyards.
---

Welcome to MikeL's WA Winery Guide (http://vintners.net/wawine/)

up to MikeL's WA Winery Guide -- Main Index
---
Copyright © 1995-2016
Mike Lempriere