MikeL's Guide to WA Wineries
Columbia Valley Winery Association
---
Official website: (none)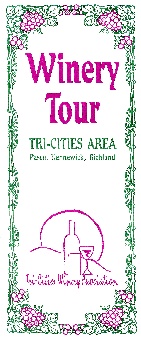 (Until 2003 known as the "Tri-Cities Winery Association".)
This an industry group for the promotion of the wineries of the Tri-Cities (Pasco, Kennewick, Richland). Each year they publish a free pamphlet entitled "Winery Tour" with touring information about the member wineries. For more info, call 509-588-6716 or visit their official website: www.ColumbiaValleyWine.com .
(Please note that although there is much in common, this is not the same group as the Tri-City Wine Society, which is a wine tasting group that puts on the annual www.TriCitiesWineFestival.com event.)
The association sponsors 6 special events each year:
Last full weekend of April -- Spring Barrel Tasting **
Also in April -- Richland Bachus Festival
June -- Tri-Cities Barrel Tasting
September -- Catch the Crush!
Fri-Sun following Thanksgiving day -- Thanksgiving in the Wine Country **
Also in November -- Tri-Cities Northwest Wine Festival
(** Also a Yakima Valley WineGrowers Assoc. event)
In MikeL's WA Winery Guide, on any winery page, look for the link "TCWA member winery" near the winery's name.
Member wineries (Winter 1999):
---

Welcome to MikeL's WA Winery Guide (http://vintners.net/wawine/)

up to MikeL's WA Winery Guide -- Main Index
---
Copyright © 1995-2016
Mike Lempriere